Love In The Open :Love in the Air : Heart Pendants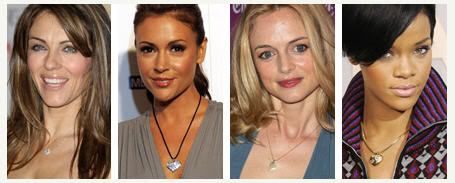 Rihanna loves 'love' so much she's spelling it out on her heart-shaped pendant. If you love 'love' take the four-letter word and spell it out in gold, add a sprinkling of created rubies, mother-of-pearl and diamond accents or just head for Zales where they've done the work for you.


Heather Graham seems to have turned love on its side, so has Macys with this falling heart sapphire pendant in white gold.


Alyssa Milano is another Hollywood beauty that holds her heart close wherever she goes. If you can't decide whether your heart is golden, full of gems or simply dazzles, then don't decide – just head to Sears.com and snap up this gem of a heart.


You don't have to be Elizabeth Hurley to carry off the 'white love' look. This elegant pearl and diamond heart jewel from Zales is a timeless ode to love of all ages.
Source: Jewellery.com